Marathon of Health ... Puts this Running family of 8 in International Wellness Spotlight
---
The Marathon of Health was a great opportunity to put Good health habits and stem cell nutrition on the International wellness map.
Dr. Ed Chicoine, his wife and their 6 children (3 of which are adult stem cell nutrition independent distributors) ran across Canada and the US over a 10 month period.
The 'STEM Cell Nutrition Powered' Marathon Family has a tag line called 'Running for Change', change meaning people taking responsibility for their health.
The Marathon of Health spotlighting a family of 8 running across Canada and the US has never been done before and it received a large following through the media and the Internet. It is a massive endeavor in time, commitment and resources, and they needed.. and received.. the public's help to make their mission a reality.
The Marathon Family ran with T-shirts that were printed with 'Powered by stem cell nutrition' .. plus paintings and decals on the back of their large motor home, they featured the World's first Stem cell nutrition LOGO.
With all the media exposure they received, the "Stem Cell Nutrition" branding and awareness was seen by many millions people thru-out their record setting marathon of health.
They gave health presentations all along the way, inspiring people and informing them of wellness principles, including the stem cell theory of renewal. This was a very good promotion for all STEM CELL NUTRITION distributors.
The Marathon started May 8 in Vancouver, British Columbia and there is a website created Marathon of Health Wellness Club to give them much needed support. The more people all contribute to this worthy cause the greater the impact we can have in helping people get healthier.
Go HERE to review the STEMTech stem cell nutrition products this Marathon of Health family will be consuming on their journey.
CTV Interview with the "Marathon of Health" Chicoine Family ..Powered by Adult Stem Cell Nutrition Supplements
---
CTV.ca News Staff
A family from Wakefield, Que. Canada is on the run.. a 'Marathon of Health' Mega Run!
This family of 8, and their 13 year old dog, embarked on an adventure that will see them cover some 10,560 miles over 10 months in an effort to raise awareness about health, fitness and turning dreams into reality.
The massive marathon concept was conceived by Dr. Ed Chicoine, father and husband of the Chicoine family, as a way to promote his new book, "Tune Up and Thrive".
"When it was being decided and I was sitting here at the end of the table and listening to it all I thought what's happening here? Our life is going crazy," said Ed's wife Gaye , recalling that first dinner-table conversation.
Unlike most families, however, that amounted to a ringing endorsement for the idea. "When people tell us we're crazy, I always think we're on to something good," Ed Chicoine said.
And even though Ed, who's an avid marathon runner, was initially planning to embark on the adventure by himself, his six adult children wouldn't hear of it.
"I finally said that I wanted to run cross-country and the whole family joined in," son Jake told CTV News Ottawa. "And I was like, 'Woah, what's happening.' So it really became a dream right when he first said it and I couldn't get it out of my mind."
Neither adventures nor living dreams are new to this family who packed up their van in 1997 for a vacation to South America. That road trip wound up lasting more than three years, and they even wrote a book about their experiences.
"Our family is pretty amazing and I know we're really different so I just want to share that with the whole world. You know, everyone can have what we have, they just have to decide to do it," said daughter,Dayna Chicoine.
Besides demonstrating that seemingly outlandish ideas are in fact possible, Ed says the run is ultimately intended to transform the way people view health.
"Our mission,is to encourage and inspire people is to change and to have better choices. That's kind of our goal in this journey we're calling the "Marathon of Health," Ed said.
If that name sounds familiar, it should. That's because the family adventure was inspired by Terry Fox's 1980 Marathon of Hope.
The Chicoines have started their run with a dip into the Pacific Ocean in Vancouver, and intend to make it to the Atlantic Ocean on Canada's East Coast before heading south for Florida. From there, the "Marathon of Health" will head west to California and eventually make their way back to British Columbia.
While they're leaving behind the family-run grocery store, Ed Chicoine's skills as a chiropractor should serve the family well as they each takes turns running up to 20 kilometers a day for almost 300 days in a row.
And when they eventually return home to Wakefield, they plan to donate whatever funds they've raised to organizations that support fitness and children.
---
---
Photo of Dr. Ed Chicoine and his
"Marathon of Health" Family
---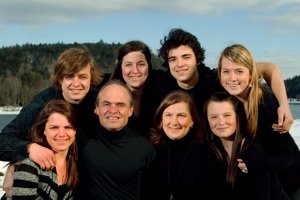 ---
---
Below is a Pre- Marathon of Health News release.. highlighting the Runners Mission and Route.
The Marathon of Health Family will be "Running for Change" (change meaning.. people taking responsibility for their health) across Canada from Vancouver to St. John's, Newfoundland, down the eastern seaboard, across the United States to California and circle back to Vancouver.
The Chicoine family of 8 , led by Father and Husband, Dr. Ed Chicoine , will run 90 km ( 56 miles ) every day of the week. They will run in relay, from Vancouver on the West Coast, all the way to St. John in the East. Then , the marathon of health team will run down into the USA, back across to the West Coast and circling back to finish in Vancouver. Be sure to follow the Marathon as it reaches your home.
Dr. Chicoine stated their mission of "Inspiring Wellness" .. "We want to create a transformation in the way people view health, helping them realize the inner potential they already possess for improved performance and longevity."



WHY.. is the Chicoine family Running the
"Marathon of Health" ?
---
" The Vital QUESTION **"WHY Do THIS Marathon?"**
With all the technological advances at our disposal today we have excellent systems in place to treat disease and crisis situations like trauma associated with severe accidents. This is great, but it does very little to prevent the most common chronic degenerative diseases, such as heart disease, diabetes and cancer, that affect so many people today.
It has become very clear that the only way you can protect yourself from these conditions is through proper lifestyle choices like good nutrition, regular exercise, a positive mental outlook, better ability to cope with stressors in your life and other factors. You are the only person who can improve and maintain optimal health. No one else can do it for you; not your doctor or the government.
In Canada we can no longer sustain the health care system that we've created. It consumes the largest part of the government's budget and it works primarily on treating disease as opposed to promoting health.
It is no different in the U.S., where countless billions of dollars are spent on treating disease, primarily through drugs and surgery. The health of a nation is measured by the health of its people. With the baby boomers getting older, obesity present in a large portion of the population and many children not practicing good health habits we are heading for a financial and health crisis unlike anything we have ever witnessed.
Let's all take action Each one of us, working together, is the solution to this Wellness crisis!
---
---
Below are "Marathon of Health" Updates from the
Chicoine Marathon Blog
A 10 Month Marathon to raise 5 Million dollars, is Powered by the World's first stem cell nutrition supplements in capsules,tablets and powders.
The Chicoine family from Wakefield, Quebec is making Health history.
This unique family of eight in one RV is on a mission of wellness education.
Dad..Dr. Ed, Mom ..photographer Gaye and their six adult children launched their "Marathon of Health". Together, they will run from Vancouver to St. John's Newfoundland, down the eastern seaboard, then across the United States to California, before turning north to finish where they started in Stanley Park, Vancouver. Over 10,560 miles of marathon running. A life-changing goal.
Their Goal : to raise $5 million for healthy lifestyle charities Kid Sport Canada, Right to Play and Get America Fit.
The idea was Ed: he has been contemplating a Trans-Canada run for some 30 years now. When he finally decided to do it, he said, "the kids decided to come with me." So he, wife Gaye and their children Tanya, 27, Ben and Karina, 25, Dayna, 23, Jake, 19, and Whitney, 17, put their lives on hold, packed up their RV and started the journey in Vancouver on May 9.
"Our idea is to bring health awareness to the public, to encourage them to live a healthy lifestyle," said Gaye. The siblings were home schooled, and brought up with active lifestyles.
"Running has always been part of our lives, just not as much as it is now!" said Dayna.
That's understandable, since they are running 90 kilometres each day, and 500 kilometres on foot every week. Naturally, to keep such a grueling schedule, their bodies will be demanding the very best nutrition.
The Chicoine's are being powered be the world's first patented stem cell nutrition products.
Day in .. and day out pounding the pavement and roads requires strong body Performance and quick daily recovery times.
These patented adult stem cell enhancer capsules are releasing millions more adult stem cells into the blood streams of the Chicoine family . Adult stem cells will help repair and renew their challenged bodies.
The Chicoines know very well if they do not maintain top physical condition, their marathon of health mission will suffer.
Proper rest, diet, mental conditioning and stem cell nutrition supplementation, will help the Chicoine's achieve a world first in marathon running.
Yes, it's hard work .. but the Chicoine family agrees that seeing the country by running the Marathon of Health is unique and special.
---
Marathon of Health
As the Chicoine Family .. Fueled by Stem Cell Nutrition Supplements..Makes Marathon History !
---
Sunday..July 24th .. was declared "Marathon of Health Day" in Ottawa as a local family continues their fundraising run across the continent.
The Chicoine family from Wakefield reached the city on Friday and made an appearance at City Hall Sunday.
Their "Marathon of Health" has taken them from a May start in Vancouver to the nation's capital to promote what they call 'well-care" and children's fitness.
"The instances of obesity, degenerative diseases – the majority are related to poor lifestyle choices and we just need to shift our way of thinking," said Ed Chicoine. "We could prevent so many problems and save billions and billions in this country."
From here, the family will head to New Brunswick then into the United States, with a goal of being back in Vancouver in February.
The run is raising money for Kidsport, Right to Play and the Get America Fit Foundation.
With a report by CTV Ottawa's Karen Soloman
----------------------------------------------------------
Comments:
Eva Myers I am so impressed with this family. To take a stand for prevention, when so much money is being requested for cures. That is what I would support and it makes such an impact on health issues for our world's young people. Let's put our money in prevention and helping those with afflictions that are not lifestyle related. Thank you!!!
---------------------------------------------------------
---
---
Legal Disclaimer:
These articles, products, statements, testimonials, reviews, and videos, have not been evaluated by the Food and Drug Administration. They are for educational and informational purposes only and do not constitute medical advice. The opinions expressed herein are those of the authors and ANY products mentioned or referenced,are not intended to diagnose, treat, cure or prevent ANY disease or illness.
For information on supporting your body's natural ability to release stem cells, and to take advantage of any financial opportunities involving optimal health ,stem cells and stem cell enhancers …
….Watch this VIDEO of the "World's First" Stem Cell Enhancer