EJ Morris, Master Photographer .. Receives 2022 "BEST of ERIE" Award
---
EJ Morris Master Photographer , is among a very small group that have won the Best of Erie Award for 15 consecutive years. This distinction has qualified EJ Morris Master Photographer for the 2022 Erie Business Hall of Fame.
---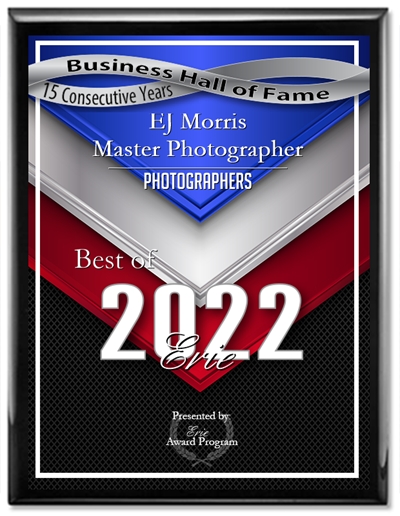 EJ Morris, Master Photographer, Inducted into Erie Business
'HALL OF FAME'
---
FOR IMMEDIATE RELEASE
EJ Morris Master Photographer Receives 2022 Best of Erie Award and Erie Business Hall of Fame!
ERIE May 6, 2022 -- EJ Morris, Master Photographer, has been selected for the 2022 Best of Erie Award in the Photographers category by the Erie Award Program.
EJ Morris Master Photographer is among a very small group of companies that have won the Best of Erie Award for fifteen consecutive years.
This distinction has qualified EJ Morris Master Photographer for the 2022 Erie Business Hall of Fame.
Each year, the Erie Award Program identifies companies that we believe have achieved exceptional marketing success in their local community and business category. These are local companies that enhance the positive image of small business through service to their customers and our community. These exceptional companies help make the Erie area a great place to live, work and play.
Various sources of information were gathered and analyzed to choose the winners in each category. The 2022 Erie Award Program focuses on quality, not quantity. Winners are determined based on the information gathered both internally by the Erie Award Program and data provided by third parties.
About Erie Award Program The Erie Award Program is an annual awards program honoring the achievements and accomplishments of local businesses throughout the Erie area. Recognition is given to those companies that have shown the ability to use their best practices and implemented programs to generate competitive advantages and long-term value.
The Erie Award Program was established to recognize the best of local businesses in our community. Our organization works exclusively with local business owners, trade groups, professional associations and other business advertising and marketing groups. Our mission is to recognize the small business community's contributions to the U.S. economy.
---
Welcome!
It's Erie PA photographer EJ Morris.. with a Big "Hello"
Over the years, I have also been heavily involved with wellness and nutrition .. especially Stem Cell Research.
Combining my "Master of Photography" skills, along with my passion of helping people achieve optimal health and renewing their Youth with balanced stem cell nutrition .. I am known as the Erie PA Photographer that Guarantees to make his clients LOOK .. and FEEL .. their Very BEST ..!
Being a respected Erie PA photographer that has won many international photography awards ,I stress to everyone that 'OUTSIDE GOOD LOOKS' should take a "back seat" to that of renewing , repairing and rejuvenating their body's organs and tissues on the "INSIDE", by maintaining optimal levels of OXYGEN and STEM CELLS in the Blood.
Personally, I have a fresh supply of Millions MORE New Adult Stem Cells released from my bone marrow.. into circulation into my Blood stream several times EVERY DAY !
I also take 15 drops of Liquid Stabilized OXYGEN Drops 3x Every day. I wake up in the morning feeling youthful and full of Renewed Energy I consider having MORE CIRCULATING STEM CELLS and MORE OXYGEN in my Blood on a daily basis ... "My Natural Fountain of YOUTH"!
My mission now, is to help educate others, thru out the World, on the importance of renewing and rebuilding their bodies, with balanced stem cell wellness , improved Oxygen Levels and consistent exercise to live a long, healthy ,happy and productive life.
CLICK HERE .. witness VIDEOS ,RESEARCH and TESTIMONIALS that Can Improve Your LIFE..and Your LIFESTYLE !
 I show people how to optimize their Health Options by supplying them with knowledge of how THEIR OWN STEM CELLS .. that's the Stem Cells present in their body from the moment they were born, are their body's Natural Renewal System .
LOOK at these Amazing FACTS :
we have a New Heart every 15 to 20 years..
.. a new Pancreas every 4 years
.. a new Intestine lining every 5 Days
... a new Liver every 3 years
.. a new Lung every 4 or 5 years
Thank God for our Body Healing " Repair Stem Cells"!   Yes.. Life is GOOD.. But YOU are in the CONTROL SEAT To Make the RIGHT DECISIONS.. and CHOICES .. especially HEALTH-WISE !
Blessings ..
EJ
---
Legal Disclaimer:
These articles, products, statements, testimonials, reviews, and videos, have not been evaluated by the Food and Drug Administration. They are for educational and informational purposes only and do not constitute medical advice. The opinions expressed herein are those of the authors and ANY products mentioned or referenced, are not intended to diagnose, treat, cure or prevent ANY disease or illness.
For information on supporting your body's natural ability to release stem cells, and to take advantage of any wellness opportunities and trials involving More Oxygen for optimal health ,stem cells /regenerative medicine and stem cell research …